JOOLA Inside Table Tennis Table:
JOOLA has perhaps the most popular indoor ping pong table on the market. The JOOLA Inside Table Tennis Table sells for less than $400. Easy assembly is the main reason so many of these tables are sold. You can put the table together in 20 minutes or less. Watch the videos we have to the right which show the process. You get a professional grade wood composite playing surface at 16mm in thickness (5/8 inch). Everything in this package is USATT approved. Other tables in this price range are the STIGA InstaPlay Table Tennis Table, Harvil Inside ping pong table, Butterfly Personal Rollaway, and the JOOLA Tour 1500. See our complete review below on frame, assembly, wheels, and playability.  BUY NOW
Design/Frame – The frame and undercarriage of the JOOLA Inside table were designed for ease of use and compact storage. The 1.5 inch diameter steel legs give the table plenty of stability and the 1 ½ inch resin apron supports the tabletop. The powder-coated metal undercarriage will last for years. When the net is removed and the two halves of the table are folded up for storage, you get the most compact table tennis table on the market. Again, Killerspin has some tables with similar compact storage abilities, but most tables don't offer the same space saving design. The legs have adjustable height levelers so you are always ensured that you are playing on a level surface. Think about carpets or uneven basement floors. The leg levelers will keep the table level. We like the 3-inch locking caster wheels for moving the table around. My kids can actually slide the table around on our hardwood floors.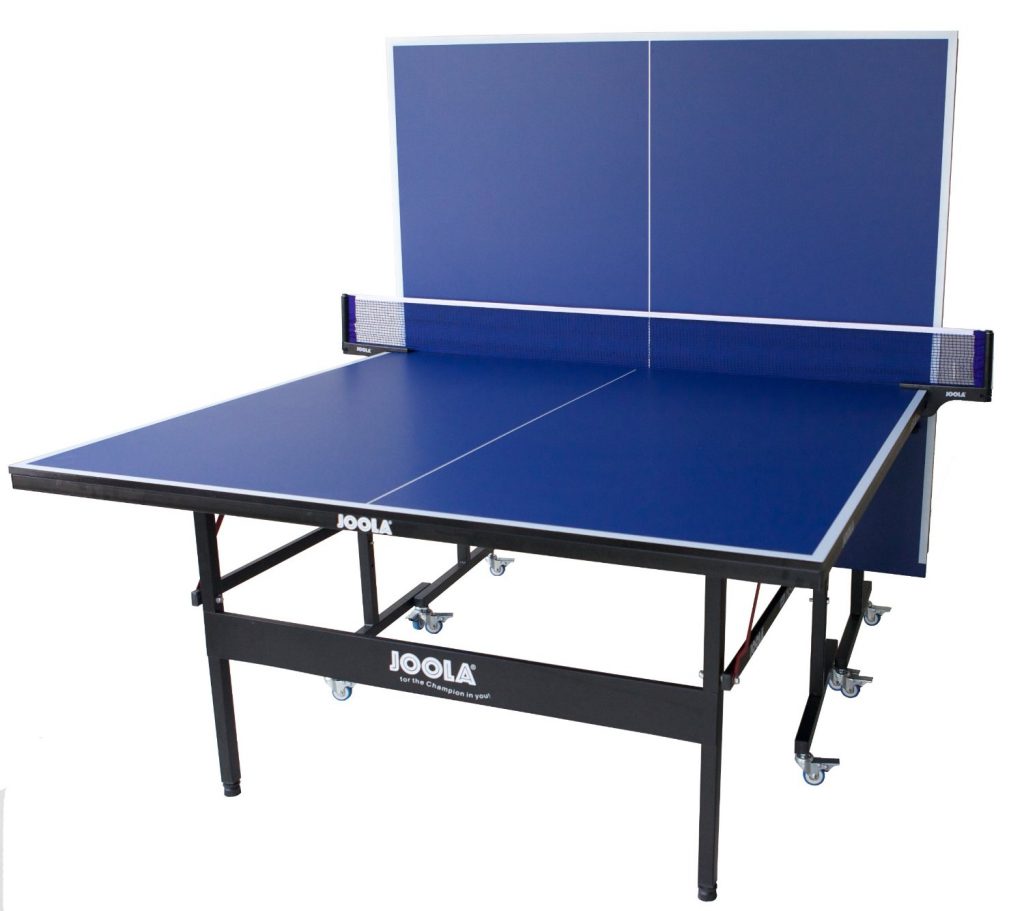 Tabletop/Playing Surface – The general rule of thumb amongst ping pong experts is that the thicker the table top playing surface, the superior the ball bounce will be. Typically you want a 1 inch tabletop, but it's not always necessary. You will get both durability and consistent ball bounce with this JOOLA 5/8 inch (16 mm) wood composite surface. Many tables are designed with MDF (medium-density fiberboard), but JOOLA manufacturers their tabletops with denser materials. That's one of the reasons they have been a sponsor at the Olympic Games for years with their table tennis tables. The playing surface is blue and ball bounce is excellent. We have found these tables in office environments, YMCA's, game rooms, and schools. Well made product in a very budget conscious price range.  ORDER HERE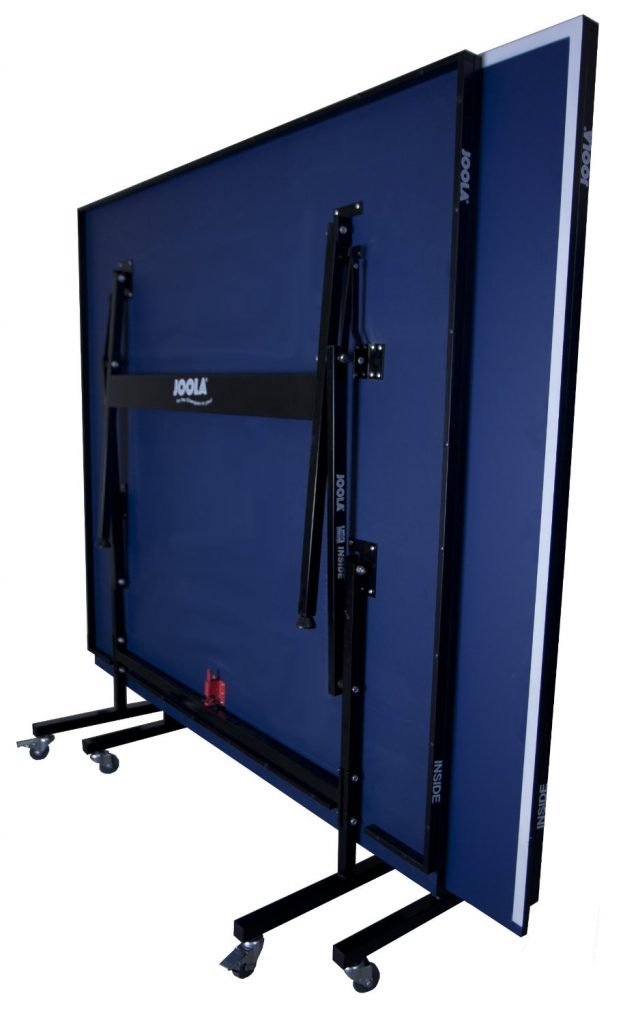 Assembly – As mentioned above, the table comes nearly completely assembled. Compared to other brands of indoor tables that require hours of assembly time, you will be done in around 20 minutes. Just attach the wheel brackets to the legs and you're pretty much done. JOOLA has designed the table so there are 2 separate halves that come together as one and are held together with the net system. Instead of spending hours on Christmas Eve putting together a competitor, we suggest trying the JOOLA Inside table for its convenience and ease of assembly. The only other brand that can compare are the Killerspin tables – they too are quick to assemble.
Safety – As parents, we are always concerned with safety when you are talking about our kids using an item that weighs over 150 pounds. JOOLA has the double anti-tilting device for added safety protection. The dual safety locking devices are perfect when the table is in storage mode or playback mode. Some higher end tables have corner protection, this JOOLA does not. Something we really like for younger kids since they tend to be right at the height of the table corners. The wheels have locking mechanisms so you can set the table in place once you have it where you want it.
Advantages  – Price and ease of assembly are two of the biggest advantages on this table as compared to a Kettler, Butterfly, or Cornilleau ping pong table. Sure those manufacturers produce some solid tables, but you will pay much more for them. We found the JOOLA Inside table tennis table is priced right and people like the convenience of easy assembly. It's hard to beat this one for under $400.
Disadvantages – For recreational players, the table top thickness won't matter. Intermediate to advanced ping pong players will notice the difference on a 1 inch thick top versus this one. Ball bounce is crucial to those that hit with spin and this JOOLA just isn't as responsive to ball bounce as the Cornilleau 500 Indoor table or the Killerspin MyT7 Pocket. If you are looking for a great recreational table, then the JOOLA is fine. If you want a tournament ready table that will hold up for years, consider a more expensive option from either JOOLA or another manufacturer.