Ping Pong Table Cover Review:
Need a cover for your outdoor ping pong table? It's not a bad idea given that most outdoor tables are exposed to the elements 365 days a years with little to no protection. Yes, many are meant to be resistant to rain, sun, snow, etc. The problem that we have found with outdoor tables is that they can get dirty. Dust and dirt have a way of getting on the playing surface no matter the environment. A dirty tabletop on your ping pong table means the ball won't bounce properly. Buying a table tennis table cover is a great investment to keep your table looking and playing great for years.
The top brands are Kettler, Cornilleau, STIGA, and Butterfly. The Kettler heavy duty outdoor table tennis cover is the top seller and they even offer it bundled with several of their outdoor ping pong tables. At around $90 it's a great add-on to any purchase. Several of the covers receive excellent marks from consumers, while others are lacking in some area and get low ratings. We have personally used the Kettler and Cornilleau covers for years. The Kettler is our favorite based on performance, durability, and cost. Coming in a close 2nd place is the Cornilleau Premium Cover at $100.
What should you look for in a table tennis cover? You want one that is weather resistant. It needs to keep the table safe from UV rays, mold, mildew, rain, dirt, snow, etc. If you are going to spend $1000+ on an outdoor table, then $50-$100 is well spent to protect that investment. The cover should have heavy duty corners so it can fit tightly on your table and not rip or tear. Most covers are designed to fit only when the table is in the folded position (storage mode). If you plan on keeping your table in regulation mode for storage purposes, then make sure you purchase the correct cover. Air vents are helpful on these covers. If you cover the table when it's wet, it will need to dry out and have a breathable cover that allows for moisture to escape. If the cover doesn't allow moisture to leave, then your table will get moldy and have mildew.
Why the Kettler? The Kettler table tennis cover has zipper side openings so you can easily maneuver the cover over the table and then adjust accordingly. We have found that the cover itself has held up quite well in the elements over the years. As for Cornilleau, they recently released their premium polyester cover and the reviews from customers are great. The Cornilleau cover fit their tables best, so we recommend purchasing the Cornilleau Premium Table cover whenever you are also purchasing a Cornilleau outdoor table.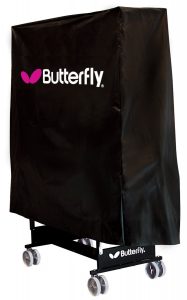 The Butterfly TC1000 Table Tennis Cover is another popular option. The reviews we read on the latest cover are not as solid as those from 3 or 4 years ago. Our older cover has held up well, but too many consumers are saying the new ones are different and less durable. Butterfly shows their cover being on tables that are both flat and in storage mode. The problem with covering a table when it's in play mode is that the wind could easily dislodge the cover and blow it away. Plus, the cover sags on the net and that is not good for it. We recommend using this cover only when your table is in the true upright, folded position for storage. The cover features a zipper (vs the Velcro on the Kettler). Some say the zipper is a tight fit and not always easy to adjust. That is one reason we prefer the Kettler since Velcro is easier to handle and adjust than zippers.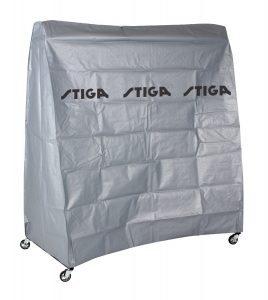 The Stiga indoor/outdoor table cover gets even less positive reviews as several owners claim the cover ripped the first or second time they used it. The cover gets narrow as you try to get it to the top portion of your stored table. That's one reason why people have them rip. They force the cover over those last few inches and then it breaks. The material is durable and woven, but the fit is just not exact which causes issues. If your purchase comes with the cover, go for it. Otherwise, go with the Kettler or the Cornilleau.