Killerspin MyT5 Bianco Pure Table:
NO LONGER AVAILABLE AS OF SEPTEMBER 1st 2019
****CHECK OUT THE RS BARCELONA You and Me  White Table or the RS Barcelona Stationary Table in White if you want a white tabletop.
Killerspin refers to this table as the Killerspin MyT5 Bianco Pure but we have seen it listed as the Bianco Pearl. Either way, it's perhaps the most beautiful table we've seen in a while. If you want to liven up your interior design, consider this gorgeous all white (pearl) ping pong table. Even the frame is white. In our years of doing reviews from major manufacturers, this is the first of its kind. Killerspin is always on the cutting edge of design and functionality, and the MyT5 Bianco Pearl has hit the mark. Killerspin also offers the MyT5 BluPocket and BlackPocket models if you want to go with a different color. They are all priced at around $700 to $750.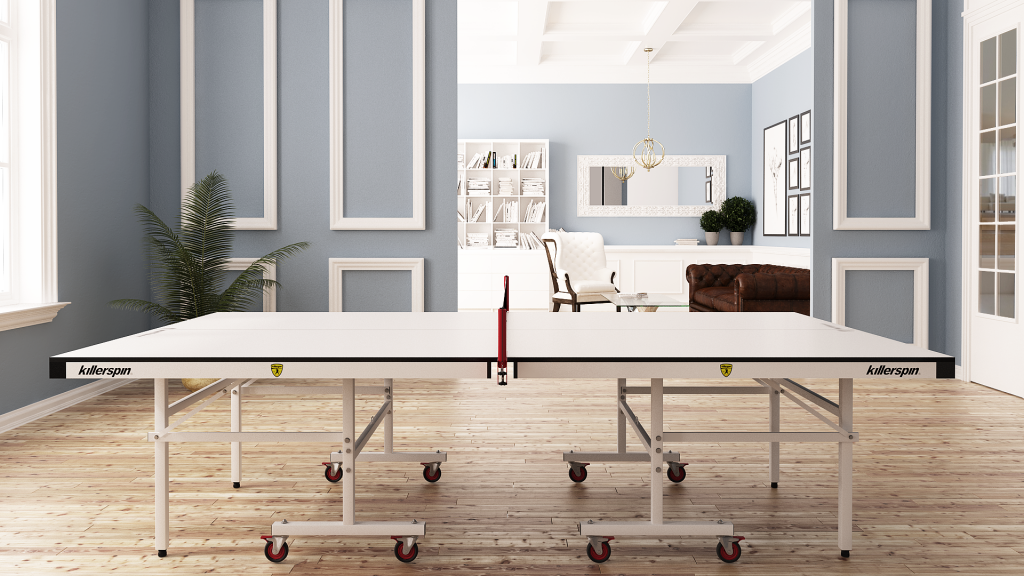 Frame – The steel frame is coated in white paint so the ping pong table is all about clean lines and simplicity. With the Killerspin MyT5 Bianco Pure, the modern design is easy to assemble and it definitely looks great in any room of your house. We've seen these in office game rooms – ping pong helps relax workers and give them a mental refresh before getting back to work. The steel frame is sturdy and definitely durable for indoor play. The legs on the Killerspin table come with built in levelers. Just adjust the legs up or down to get that perfectly level playing surface. We know that carpets and tile floors aren't always level, but this table will solve that. The frame is a folding style and folds up compactly when in storage mode.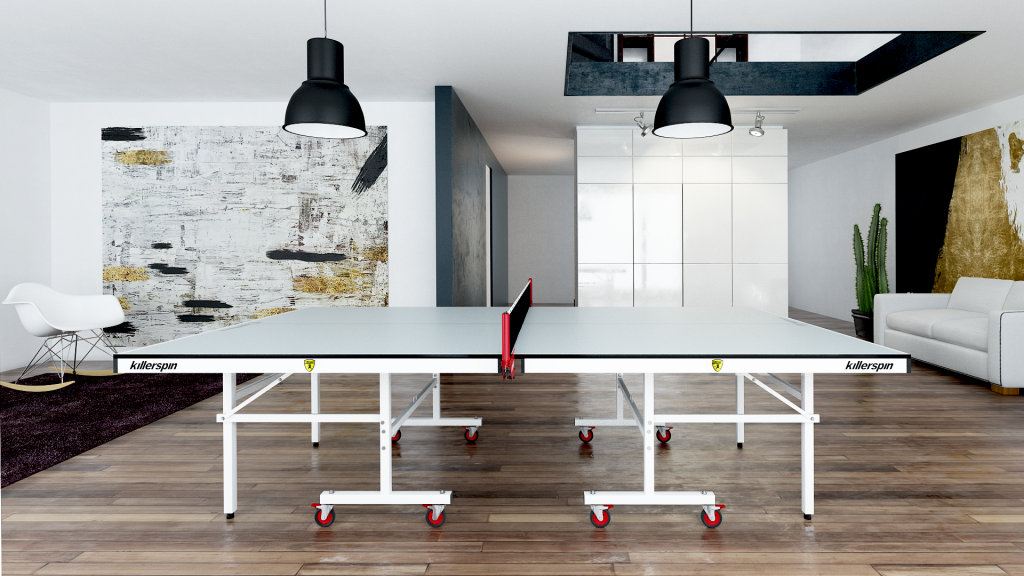 Assembly – How long will it take to get your beautiful pearly white table tennis table built and ready to play? How about 20 minutes or less? Yes, Killerspin has designed their ping pong table to be gorgeous and ready to go from 'box to play' in less than 20 minutes. We have found that all their MyT series are up and running very fast. Just a few bolts to attach and the table is all set. Their unique frame design keeps things simple and we really appreciate it. Compared to other brands, the Killerspin tables are superior in this way. If you are a parent or non-handy individual, you will appreciate the simplicity with the assembly. 5 out of 5 stars for assembly.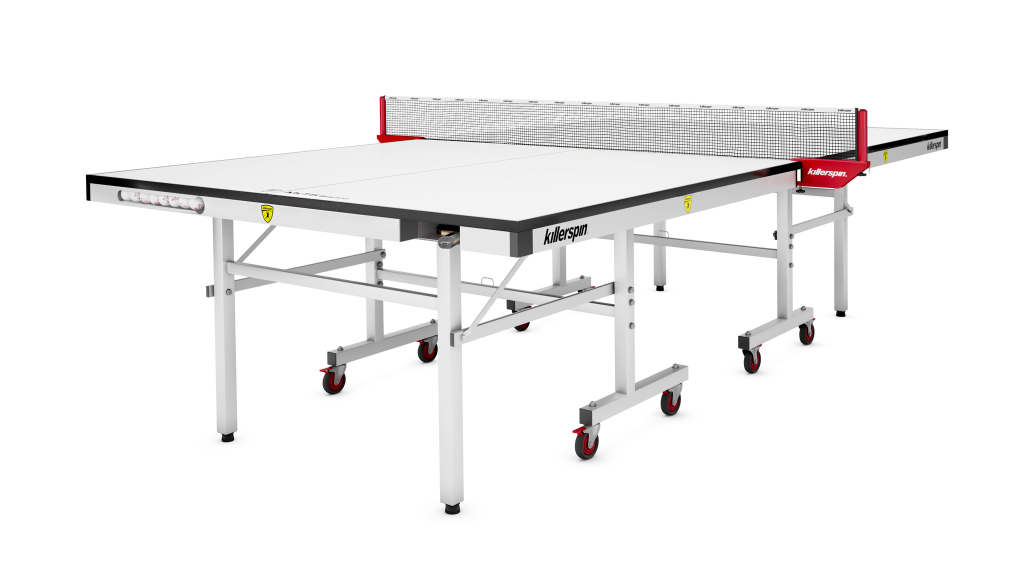 Playability – Many of our customers ask us, how does this table play? With a 16mm tabletop surface thickness and repeat roller coating paint, the bounce is true and the table is perfect for recreational or more competitive play. The holders (pockets) on each end of the table for ping pong balls and rackets keep the action going even when a ball goes astray. The net is easy to clip-on between the two table halves. Our only complaint is that the white tabletop can make playing with white ping pong balls a bit hard to see. We prefer yellow balls for this table. Otherwise, the white table is a total conversation piece and worth the investment.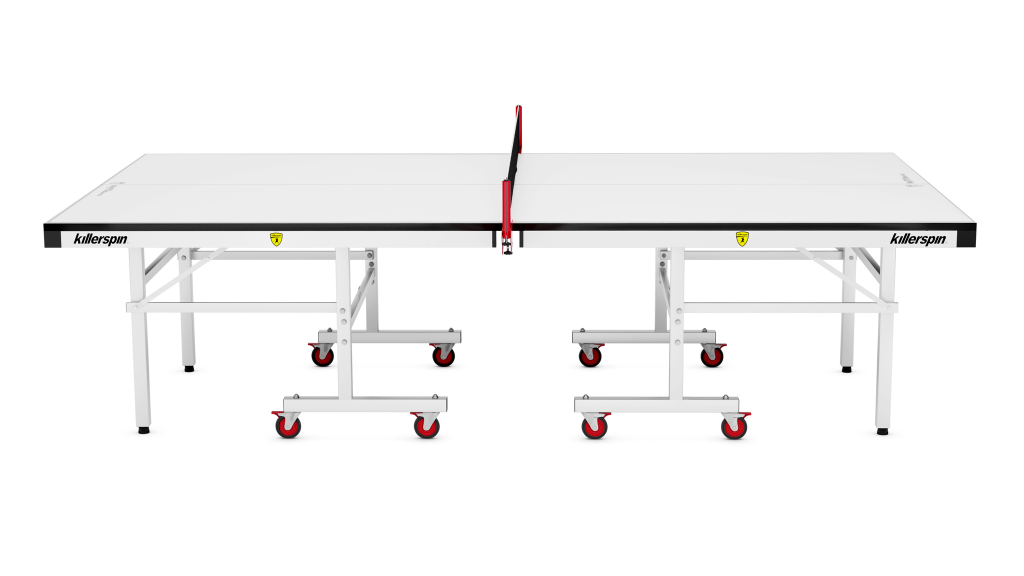 Advantages – This is the type of table that goes beyond sport. It's the centerpiece to a room. A conversation piece at least. So, you are not only buying a ping pong table but a beautiful piece of furniture. Ease of assembly is another benefit of this table. We also like the caster wheels, clip-on net, adjustable legs, and compact storage. Well worth the $750.
Disadvantages – As with anything white, you will need to take care of this ping pong table and keep it clean. White does get dirty and shows wear more easily than other colors. A cover might be the call on this one if you want to keep it pristine. White ping pong balls are not always easy to follow on the MyT5 Bianco Pearl, so play with yellow balls.